Due to the pandemic, our group is on a brief event hiatus. Be sure to sign up for our newsletter to learn about future events and smart growth happenings in our community.
How can a mall or office park or other unused commercial spaces be retrofitted to meet our region's needs? Imagine converting these types of buildings into affordable housing or retrofitting these areas to reduce our dependence on cars while increasing water and energy resilience. Architect, author and urbanist Ellen Dunham-Jones will discuss how the sprawling commercial infrastructure of the 20th century such as malls, big box stores, office parks and oversized parking lots can be retrofitted to innovatively address these urgent issues, as well as climate change
ACTIVATING PORTSMOUTH IN WINTER
Safety precautions taken during the pandemic have brought heightened attention to the use of outdoor public spaces in cities and towns and the importance of making them inviting and usable all year long. In addition, Portsmouth and the Seacoast lose much of their social dynamism and economic support in the winter. What strategies can Portsmouth employ to promote social interaction and vitality in the cold, dark, and quiet months? On January 27, 2021, award-winning urban designer and planner Simon O'Byrne joined Portsmouth for a virtual conversation about activating public space in winter.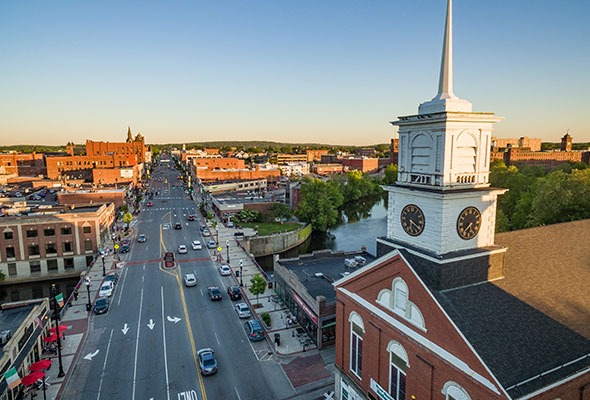 FROM THE OUTSKIRTS TO DOWNTOWN
Joseph Minicozzi, AICP is the principal of Urban3 joined us for a virtual presentation & conversation on how to rethink city planning by using tax revenue as a decision driver. Using in-depth data analysis, his reports reveal surprising cases for revitalizing a downtown versus expanding into the suburbs or building bix box retail spaces.
Aaron Naparstek, author, advocate, and creator of Streetsblog, joined us for a virtual presentation & conversation on bicycle advocacy. Using his fight to get bike lanes in Prospect Park, he provided a variety of strategies and tactics for turning out the support for bike lanes and creating a more bike-friendly community.
PENNYWISE PORTSMOUTH: BALANCING COSTS & COMMUNITY
Chuck Marohn of Strong Towns joined us at the Portsmouth Public Library for an evening of discussion. Rather than build new, we need to maintain the existing transportation infrastructure. Rather than emphasize expansion, we need to focus on existing investments. We face an important question: How do we get the most value out of our infrastructure investments while improving walkability, safety, and community strength? 
PARIS TO PORTSMOUTH: CITIES RESPOND TO CLIMATE CHANGE
Americans across the nation are demanding and developing real solutions in the face of climate change. Learn about their stories in the film Paris to Pittsburgh, and be inspired to create change in Portsmouth. The film was screened at the Portsmouth Public Library, followed by a discussion led by UNH climate scientist Cameron Wake. Portsmouth City Councilor Josh Denton will update us on efforts currently underway in our city.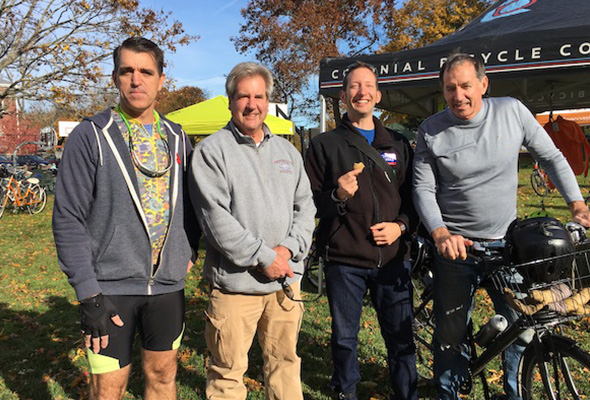 The Portsmouth Smart Growth Walk/Bike committee joined SABR and Commute Smart Seacoast to help rally support for the new Middle Street bicycle lanes drew quite a large crowd of bicycle enthusiasts to the Lafayette playground. Pictured above are City Councilor Ned Reynolds, Mayor Jack Blalock, City Councilor Josh Denton, and former City Councilor Brad Lown.
Kol Peterson will cover the process of designing and building an ADU, and considerations including costs, financing, permitting, design, rental models, and more. He'll also delve into why expanding the inventory of ADUs in New Hampshire will help homeowners, would-be renters, downsizers, and the availability of affordable housing for our state's workforce and communities.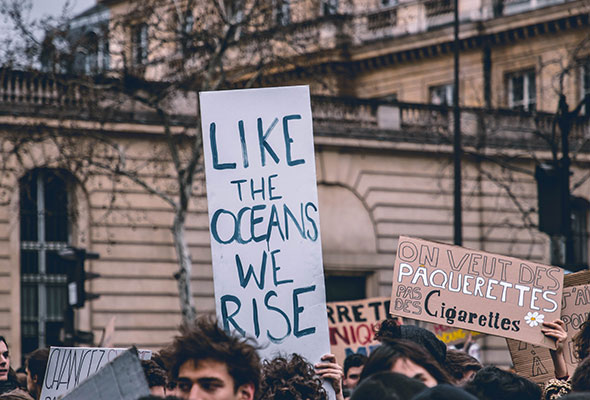 PARIS TO PORTSMOUTH: TAKING ACTION ON CLIMATE CHANGE
Dr. Ed Cameron, an original contributor to the historic 2015 Paris Climate Agreement, spoke about the purpose and structure of the Agreement and how cities like Portsmouth and non-state actors can build a low-carbon and resilient economy.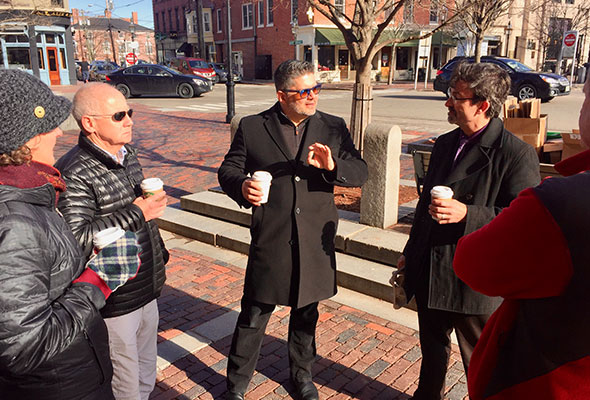 BRENT TODERIAN ON DENSITY DONE WELL
International Urban Planning expert and vibrant city advocate, Brent Toderian presented his signature topic Density Done Well and spoke about the many benefits of increasing a city's density if done in a thoughtful, community first way.
One of the designers of New York's new flood protection plan, Dutch architect and urbanist Matthijs Bouw discussed his experience designing protective infrastructure along Manhattan's shoreline, and his work in the Netherlands.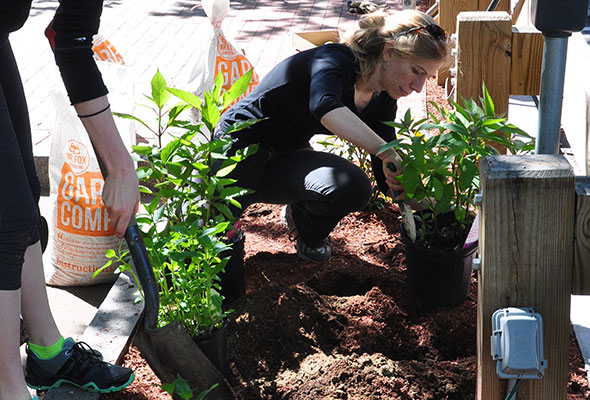 A tactical urbanism and space making initiative undertaken in partnership with the City of Portsmouth, we installed new landscaping, seating, artwork, and a stage-area to attract public arts performances.
ACCESSORY DWELLING UNITS FOR PORTSMOUTH
Ben Frost of the New Hampshire Housing Finance Authority and Rick Taintor from the Portsmouth Planning Department led a presentation and thoughtful discussion on the state's new ADU law. In addition, they spoke to how this law will affect Portsmouth.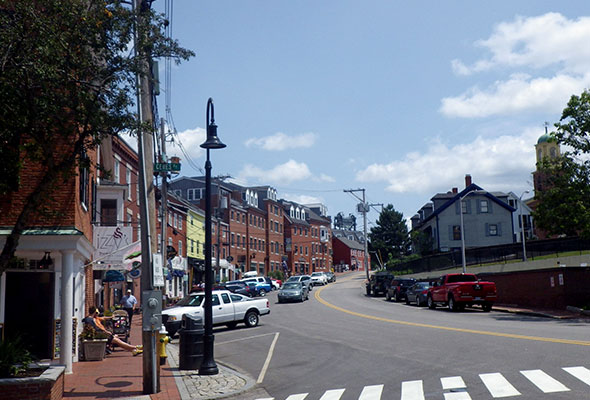 ADDING APPEAL TO PORTSMOUTH'S PUBLIC PLACES
Landscape architect Robert White joined our community to lead a discussion on potential changes to four locations in the city: Market Square, Vaughan Mall, State Street and "Fat Belly Square" (the intersection of Market and Bow streets).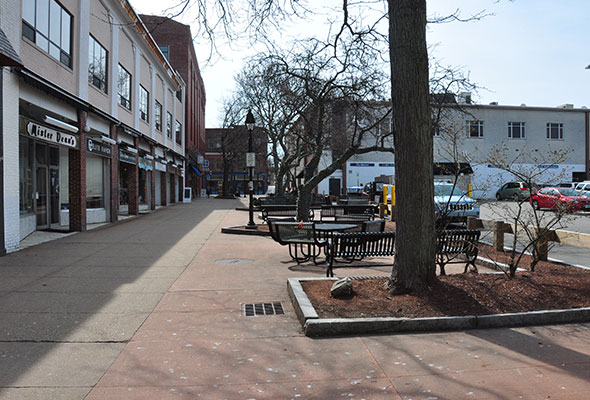 THE MAGNETISM OF PUBLIC SPACES
We hosted a screening of The Social Life of Small Urban Spaces, a classic, influential film, followed by discussion. A few days later, we held a placemaking workshop led by noted New England planner Jane Lafleur to explore what makes certain spaces appealing, and how we can replicate those features to create more inviting places in Portsmouth.
ISLINGTON STREET LAB PROJECT
In late May, Mike Lydon of the Street Plans Collaborative spoke to city officials about how tactical urbanism tools and experiments are helping residents improve neighborhoods. Then in June, Lydon presented on tactical urbanism to the public at 3S Artspace. The following day, we led a project in the West End to create a new crosswalk, mini-park, and directional signs.
SINK OR SWIM? FACING CLIMATE CHANGE IN PORTSMOUTH
Internationally recognized climatologist and UNH professor Cameron Wake discussed the impact of climate change on Portsmouth and strategies for preparing for them.
A SMART-GROWTH APPROACH TO AFFORDABLE HOUSING
National planning and smart-growth expert Jennifer Hurley joined our community to lead two workshops for the public and business owners to explore affordable housing options in Portsmouth.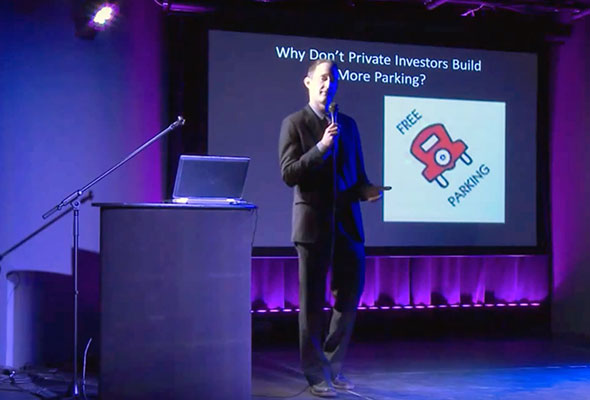 ARCHITECTURE IS THE ART OF CREATING PLACES
What makes good architecture transcend eras and locales?  Pulitzer Prize-winning architectural critic Robert Campbell joined our community to give a presentation that addressed this topic.
Bill Lyons, federal transportation expert; Steve Pesci, director of special projects at UNH; Scott Bogle, senior transportation planner at Rockingham Planning Commission.
Design expert and Portsmouth resident Rick Chellem hosted a discussion on how to effectively manage parking, traffic, and pedestrian accessibility in our community.
PARKING POLICIES FOR A SUCCESSFUL DOWNTOWN
Parking expert and Cornell University professor Michael Manville joined our community to discuss how city planning plays a key role in preventing parking woes.
VIRTUAL WALKING TOUR OF THE WEST END
Held in support with the city's charrette on West End character-based zoning, we held a virtual walking tour at White Heron Café.
TOWARDS A MORE WALKABLE PORTSMOUTH
Walkable city expert Jeff Speck joined us to discuss ways to make Portsmouth more walkable.
WALKING TOUR OF THE NORTH END
A group followed a walking tour of the North End of Portsmouth, a community in change, to explore the ways this neighborhood has used or could benefit from the principals of smart growth.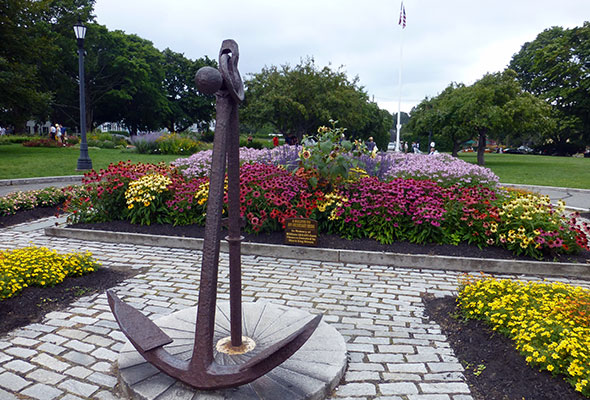 SHIFT: A PLAN NH WORKSHOP
Robin LeBlanc conducted a community workshop in coordination with Plan NH to help participants think about Portsmouth's future by examining the assumptions we make about spaces.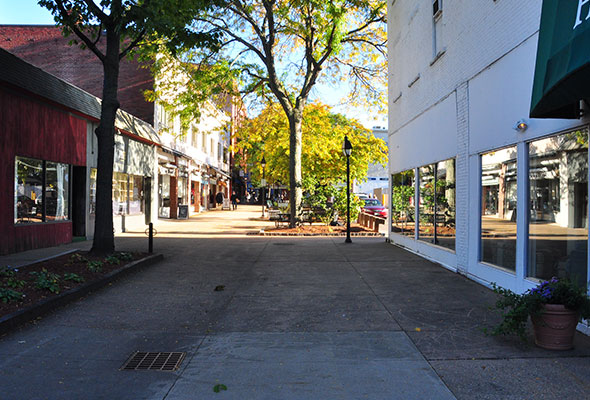 WALKABLE CITY BOOK DISCUSSION
A discussion of the book Walkable City by Jeff Speck, which covers ways to make communities more vibrant and pedestrian-friendly moderated by Tom Holbrook of RiverRun Bookstore.
THE HUMAN SCALE FILM DISCUSSION
A screening of the documentary film The Human Scale. Steve McHenry and Margaret Robidoux of McHenry Architecture gave a brief presentation and moderated a discussion.
Know a speaker or have idea for an event?