We had a Lively Community Conversation on Transportation, Smart Growth and Climate on June 29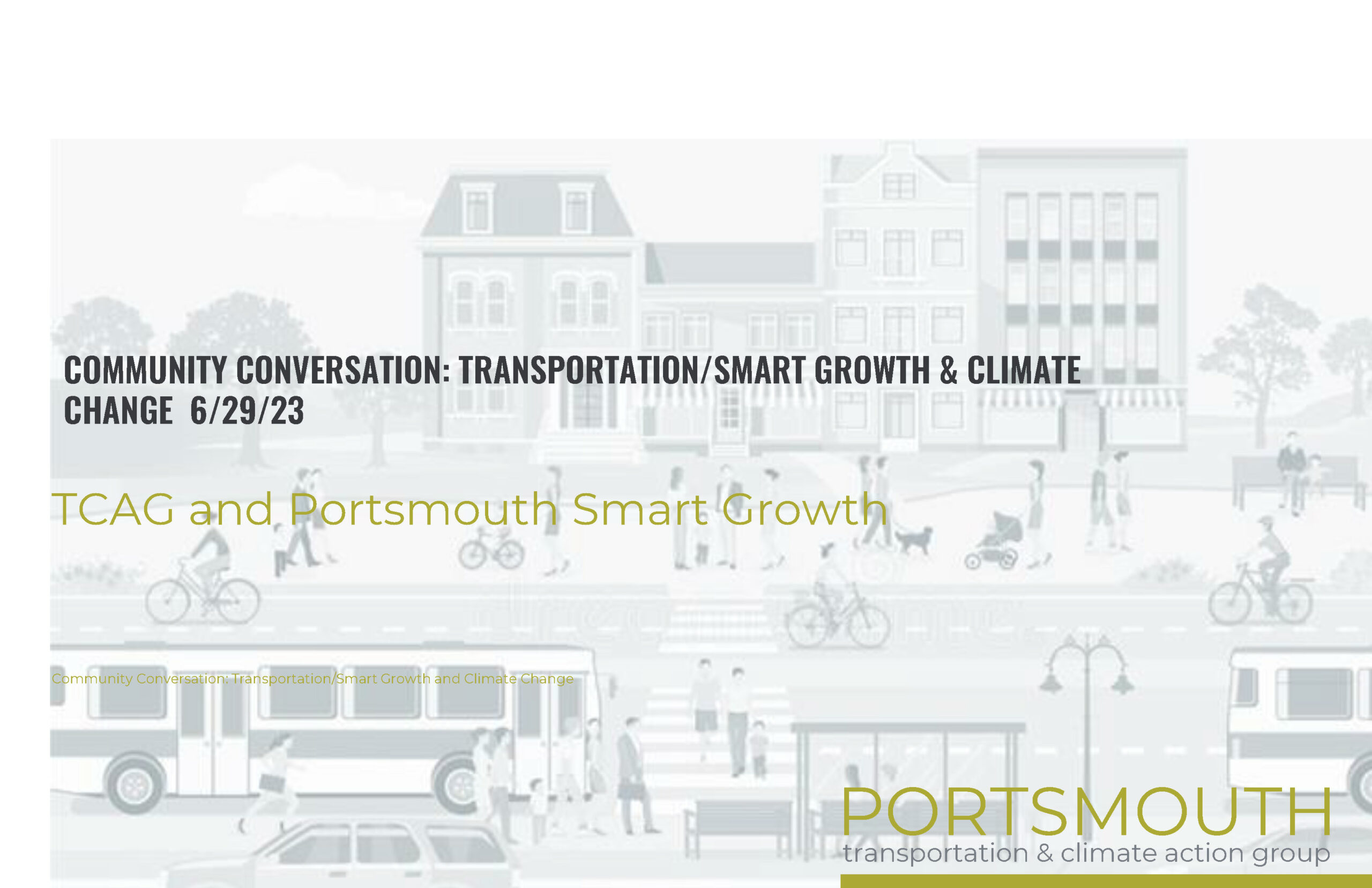 Portsmouth Smart Growth, Portsmouth Climate Action, and the Transportation and Climate Action Group cosponsored this conversation to discuss how transportation choices are major sources both of greenhouse gas emissions (20-30%) and potential reduction strategies. We addressed the question: are there smart transportation and land use choices that reduce emissions, for example, by providing attractive and affordable new forms of mobility, make walking and biking safer, encourage electric vehicles, or improve accessibility choices for new development?
This is the first in a series of small and informal Community Conversations organized by Portsmouth grass roots organizations as part of community engagement for the Climate Action Plan (CAP). The conversations will address the urgency of the Climate Crisis through support for developing and implementing the CAP as individuals, neighborhoods, businesses, the city, and Seacoast region.
Slides illustrating the several presentations are available here. The program agenda may be viewed here. Background materials may be accessed here. For additional information: PortsmouthTCAG@gmail.com.
We believe in the future of Portsmouth
Portsmouth Smart Growth volunteer-run non-profit that promotes innovative ideas for a vibrant community in Portsmouth, New Hampshire. We believe in the principles of smart growth that offer a guide to help build cities, towns, and neighborhoods that are economically prosperous, socially equitable, and environmentally sustainable.
Our hope is to bring together key municipal and government stakeholders, Portsmouth residents and the business community to help establish a long-term vision for our community.
TOPICS WE ARE PASSIONATE ABOUT
We can make small, low-cost changes to our community that can cause a lasting impact. Residents can take charge of making their neighborhoods safer, inviting of others, and more environmentally sustainable.
Every city has a parking problem. But the problem is bigger than people struggling to find a spot or paying a meter. The cost of parking infrastructure and subsidies are not economically or environmentally sustainable.
Cities that encourage walking and biking are healthier, physically and economically. Public transportation, when done right, reduces the need for single-occupancy vehicles, which improves traffic and parking woes.
Interested in learning more about smart growth?